Today, with a
seeping, gray sky outside my window
, I figured the
best bet
I was going to have all day at
true inspiration
would be a
very specific combination of caffeine
and grilled cheese with raspberry preserves. Then, this
pocket of gold popped up on my browser
while searching through
1960s travel photography
: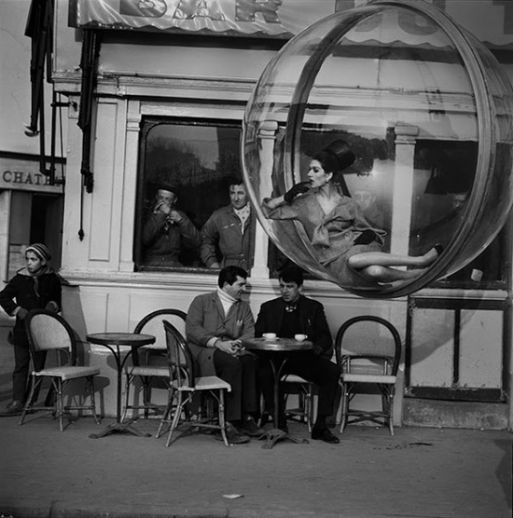 This collection of photographs was shot by Melvin Sokolsky for Harper Bazaar's "Bubble" Spring Collection in 1963. Apparently, the plexiglass and aircraft aluminum bubble was carted around Paris and suspended from a crane, with invisible tethers suspending it in mid-air. The model, Simone D'Aillencourt, is an icon of sixties fashion, and I'd imagine got a chance to say something like this to her friends before the shoot:
"Sorry, I won't be able to grace you with my presence at lunch tomorrow. Mel's about to put me in a glass bubble and float me around town like some image of a perfect woman shot down from outer space."
Or, at least I would have.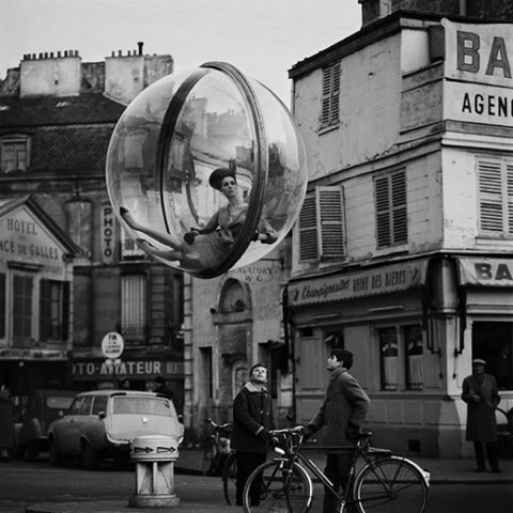 The images are stunning- the orb truly appears to be floating in middair, and her look of intent and disregard of people around her in the outside world makes you wonder where she's steering her ship to end up.
Also, can we talk about the balancing act of those heels while standing on a curved foundation? Her calf muscles were probably solid rocks after this.
The vision and construction necessary to create something like this before digital effects were possible is obvious, but it also truly builds another world to be photographed, holding witness to an artist creating a temporary different dimension than what is familiar.
Looking at the world this way was inspired by a recurring dream Sokolsky had of floating in a bubble over exotic locales, so forgive me if that's all I do for the rest of the day.